Two Models Added to Cincom "L12" Series

- Enhanced productivity and combined machining performance through substantial increase in mounted tools -
2018.10.10
Citizen Machinery Co., Ltd.
Citizen Machinery Co., Ltd. (Headquarters: Miyota-machi, Kitasaku-gun, Nagano-ken, President: Keiichi Nakajima) has substantially increased the number of mounted tools on its Cincom "L12" small-scale precision sliding headstock type CNC automatic lathes with "VIII" and "X" models.
The new "L12 X" high-end equipment will be exhibited at "JIMTOF2018" in Tokyo Big Sight starting on November 1.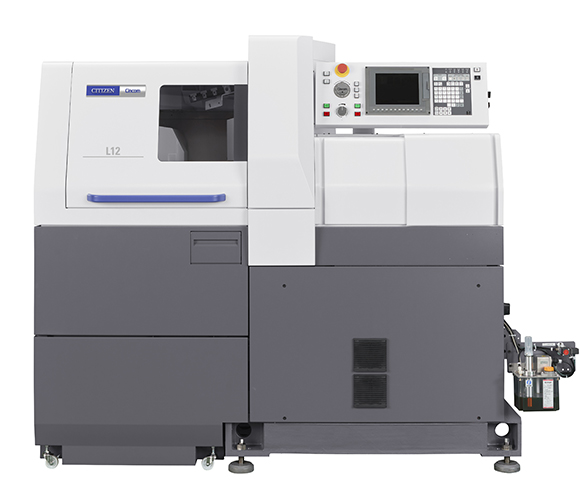 Sliding Headstock Type CNC Automatic Lathe Cincom "L12" Series
The well-established L series is sold worldwide as versatile machines used in metal processing in various industries, including precision equipment parts, medical parts, and automobile parts. Since the series was released in 1986, the cumulative shipments have exceeded 20,000 units.
We have expanded the line-up with this addition of two machines to the "L12" series which is renowned for small diameter machining with a maximum of ø12mm.
By adopting several modular tooling combinations that allow for selecting functionality to suit a variety of machining needs, and adding the Y2 axis to the back spindle in the X type, the maximum number of mounted tools has been greatly increased (VIII and X can mount 34 and 38 tools respectively, while the VII can mount 28).
In addition, by increasing the back spindle speed and improving the flexibility of allocating machining steps, we have enhanced productivity and combined/complex machining performance.
Main Features
1. Significant increase in the number of mounted tools, enabling up to 38 tools to be installed
Keeping with the horizontal tool layout allowing for a large number of tools (turning tools and drills) to be mounted and restricting interference between them, which is a feature of the L series, the maximum number of tools that can be installed has increased to 38 (X type only: 28 and 34 for existing VII and VIII types respectively) due to adding Y2 axis to the back spindle (X type only), and so on.
In addition, with a wide range of rotating tools, a variety of combined/complex machining can be dealt with, such as an "Angle-adjustable end face spindle" capable of drilling to the eccentric position of the end face of a workpiece, a "Slitting spindle" which produces slots in the ends of a workpiece such as the head of the minus screw, and "Thread whirling" to create bolt threads.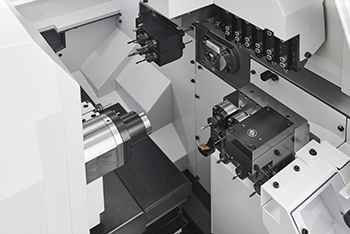 L12X model, inside the cutting room
2. Enhanced productivity with increased back spindle speed
By changing the back spindle drive system from a belt to a built-in motor, 12,000 min-1 of the maximum back spindle speed, an increase of up to 20% more than the existing VII type, is achieved. Also, we are improving productivity by shortening acceleration/deceleration time.
Main Machining Work
Precision instrument related parts, medical instrument parts, automobile-related parts, digital/IT related parts etc.
Machine Specifications
Model Type
L12VIII
L12X
Maximum Machining Diameter (D)
ø12mm
Maximum Machining Length (L)
Guide-bushing
135mm/1chuck
Guide-bushing-less
30mm/1chuck
Maximum Drilling Diameter for Spindle
ø8mm
Maximum Tapping Diameter for Spindle
M6(Cut tap)
Maximum Drilling Diameter for Back Spindle
ø8mm
Maximum Tapping Diameter for Back Spindle
M6(Cut tap)
Maximum Drilling Diameter for Gang Rotary Tool
ø5mm
Maximum Tapping Diameter for Gang Rotary Tool
M4(Cut tap)
Number of Tools to be Mounted
Max.34
Max.38
Spindle Speed
15,000min-1
Back Spindle Speed
12,000min-1
Gang Rotary Tool Spindle Speed
10,000min-1
Back Tool Spindle speed
9,000min-1(OP)
9,000min-1
Tool Size
Turning tool
☐10(☐12)
Sleeve
ø19.05mm
Spindle Motor
2.2 / 3.7kW
Back Spindle Motor
0.75 / 1.5kW
Rotary Gang Tool Spindle Motor
0.75kW
Back Rotary Gang Tool Spindle Motor
0.5kW(OP)
0.5kW
Rapid Feed rate
All axes 35m/min
Y2 axis 8m/min, other axes 35m/min
Center Height
1,050mm
Machine Height
1,710mm
Required Floor Space
W1,840×D970mm
Machine Weight
2,200kg
L12VIII
Maximum Machining Diameter (D)

ø12mm
Maximum Machining Length (L) "Guide-bushing"

135mm/1チャック
Maximum Machining Length (L) "Guide-bushing-less"

30mm/1チャック
Maximum Drilling Diameter for Spindle

ø8mm
Maximum Tapping Diameter for Spindle

M6(Cut tap)
Maximum Drilling Diameter for Back Spindle

ø8mm
Maximum Tapping Diameter for Back Spindle

M6(Cut tap)
Maximum Drilling Diameter for Gang Rotary Tool

ø5mm
Maximum Tapping Diameter for Gang Rotary Tool

M4(Cut tap)
Number of Tools to be Mounted

Max.34
Spindle Speed

15,000min-1
Back Spindle Speed

12,000min-1
Gang Rotary Tool Spindle Speed

10,000min-1
Back Tool Spindle speed

9,000min-1(OP)
Tool Size "Turning tool"

☐10(☐12)
Tool Size "Sleeve"

ø19.05mm
Spindle Motor

2.2/3.7kW
Back Spindle Motor

0.75/1.5kW
Rotary Gang Tool Spindle Motor

0.75kW
Back Rotary Gang Tool Spindle Motor

0.5kW(OP)
Rapid Feed rate

All axes 35m/min
Center Height

1,050mm
Machine Height

1,710mm
Required Floor Space

W1,840×D970mm
Machine Weight

2,200kg
L12X
Maximum Machining Diameter (D)

ø12mm
Maximum Machining Length (L) "Guide-bushing"

135mm/1チャック
Maximum Machining Length (L) "Guide-bushing-less"

30mm/1チャック
Maximum Drilling Diameter for Spindle

ø8mm
Maximum Tapping Diameter for Spindle

M6(Cut tap)
Maximum Drilling Diameter for Back Spindle

ø8mm
Maximum Tapping Diameter for Back Spindle

M6(Cut tap)
Maximum Drilling Diameter for Gang Rotary Tool

ø5mm
Maximum Tapping Diameter for Gang Rotary Tool

M4(Cut tap)
Number of Tools to be Mounted

Max.38
Spindle Speed

15,000min-1
Back Spindle Speed

12,000min-1
Gang Rotary Tool Spindle Speed

10,000min-1
Back Tool Spindle speed

9,000min-1
Tool Size "Turning tool"

☐10(☐12)
Tool Size "Sleeve"

ø19.05mm
Spindle Motor

2.2/3.7kW
Back Spindle Motor

0.75/1.5kW
Rotary Gang Tool Spindle Motor

0.75kW
Back Rotary Gang Tool Spindle Motor

0.5kW
Rapid Feed rate

Y2 axis 8m/min, other axes 35m/min
Center Height

1,050mm
Machine Height

1,710mm
Required Floor Space

W1,840×D970mm
Machine Weight

2,200kg