Further expansion of the range of models to which LFV technology can be fitted

- LFV technology can now be fitted to models with FANUC Corporation-made NC -
2018.11.01
Citizen Machinery Co., Ltd.
Citizen Machinery Co., Ltd. (Headquarters: Miyota-machi, Kitasaku-gun, Nagano-ken, President: Keiichi Nakajima) has further expanded the range of models that can be fitted with LFV (low frequency vibration cutting) technology, which solves a variety of chip-related issues that have been challenges in the cutting process for many years. Now that it is also possible to fit the technology to models which adopt NC manufactured by FANUC Corporation, LFV has been incorporated into the Cincom A20, which excels in both functionality and cost performance. The Cincom A20 will be exhibited at "JIMTOF2018" at Tokyo Big Sight starting on November 1.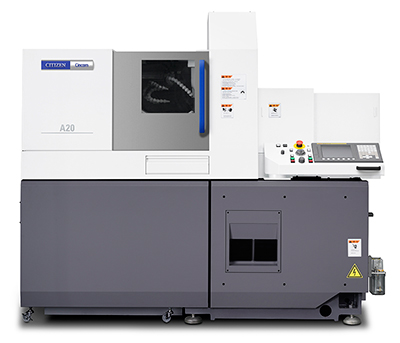 The Cincom A20, now fitted with LFV functions
LFV technology was first included in 2013's VC03, and is now fitted to seven models, including Citizen's mainstay L20. Previously, it was only possible to fit LFV technology to models utilizing NC manufactured by Mitsubishi Electric Corporation; however, this technology, in which multiple vibrations occur during a single rotation of the main spindle, can now also be used on models featuring NC manufactured by FANUC Corporation.
LFV technology is a unique Citizen control technology which breaks up the chips by vibrating the servo axis in the cutting direction and providing "air cutting" time where the tool does not touch the workpiece. As a result, LFV achieves solutions to various issues regarding chips which have been challenges for many years in the cutting process, such as improvements in the efficiency of small-diameter, deep-hole machining and the fine breaking up of chips produced when working with difficult-to-cut materials where the resulting chips have tended to be long. In addition, this technology achieves machining with high precision for an extended period of time by dramatically reducing the chip volume and preventing defects on the workpiece surface.
Citizen Machinery's LFV technology can not only be used when performing single-axis cutting such as on a horizontal or vertical surface; two-axis vibration and interpolation functions enable it to handle a wide variety of machining, including arcs and tapered parts. *1
*1

Citizen Machinery's LFV technology, which can also be used for two-axis interpolations, and is fitted to models with NC manufactured by Mitsubishi Electric Corporation, is a function unique to Citizen. Citizen made a special request to FANUC for development in this instance.
An LFV technology-equipped model of Citizen Machinery's mainstay Cincom L20 was launched in 2016, and was greeted with high acclaim, particularly in Japan and Europe. There are now a growing number of customers in the U.S. and Asia who wish to purchase models equipped with this technology. Thanks to the new ability to include LFV technology on models equipped with NC manufactured by FANUC Corporation, Citizen Machinery aims to expand the range of models equipped with LFV technology even further and grow sales.
*

LFV is a registered trademark of Citizen Watch Co., Ltd.