French sales company and Spanish distributor become wholly owned subsidiaries

- Enhancing the machine tool sales system in Europe -
2019.10.23
Citizen Machinery Co., Ltd.
Citizen Machinery Co., Ltd. (Head Office: Miyota-machi, Kitasaku-gun, Nagano; President: Keiichi Nakajima) has concluded a stock purchase and sale agreement with a French sales company and Spanish distributor. The companies will become wholly owned subsidiaries as we aim to expand sales in Europe, one of our key markets.
While the European market is currently slowing, forecasts point to mid-to-long term growth based on multi-functionalization and automation needs. The French and Spanish markets are among the biggest machine tool markets in Europe (3rd and 5th largest respectively) and our equipment featuring LFV (low-frequency vibration cutting) technology and advanced machines are selling well. This latest purchase brings the number of our sales subsidiaries in Europe to five, and will enable us to streamline sales activities, enhance pre-sale and after-sale services, and improve customer service.
French sales company becomes wholly owned subsidiary; new company building
Machine tool distributor Hestika France S.A.S. ("Hestika") was established in 1969 and has been selling and servicing our products in France since 1996. The company became our subsidiary following a 51% investment in 2008, and we concluded an agreement on July 19, 2019 to purchase the remaining shares as part of our intention to expand our business in the French market. With production part processing for automobiles, medical treatment, and aircraft booming in south-eastern France, where Hestika is located, we expect our business to grow with the market. We will complete a new company building next month, which will strengthen pre-sale service (customer service before orders) and expand showroom space.
About Hestika
Address

5 avenue Joffre, 94160 St Mande, FRANCE
No. of employees

26
Sales

18 million EUR (approx. 2.2 billion yen) (FY 2018)
New Building
Address

ZAE des Lacs 3, 1385, Avenue du Môle 74130 AYZE, FRANCE
Site area

Approx. 5,000 m2
Floor space

Approx. 2,200 m2
Value of investment

Approx. 2 million EUR (approx. 250 million yen)
Completion

November 28, 2019 (scheduled)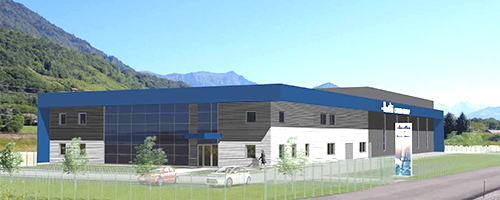 Artist's impression of the new Hestika building when completed
Spanish distributor purchased as wholly owned subsidiary
Machine tool distributor Egasca S.A. ("Egasca") was established in 1952. The company has handled sales and servicing for our products in Spain since 1983 and customers have praised its engineering support. Egasca is located in the Basque Country in northern Spain — the heart of industry in the country. The automobile, consumer electronics, and communications industries are thriving in this region. We concluded a stock purchase and sale agreement on September 16, 2019 to make the company our wholly owned subsidiary and solidify our sales and service system in Spain.
About Egasca
Address

Polígono Industrial Erisono 2, 20600 Eibar (Gipuzkoa), SPAIN
No. of employees

18
Sales

18 million EUR (approx. 2.2 billion yen) (FY 2018)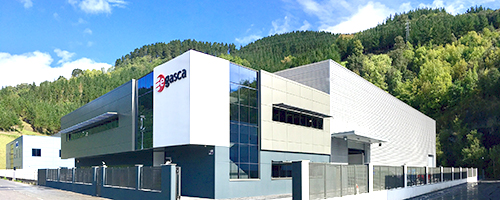 Egasca Head Office