Technical Center Opened in Taichung, Taiwan.
2015.01.20
Citizen Machinery Miyano Co., Ltd.
Citizen Machinery Miyano Co., Ltd. (President: Keiichi Nakajima; Headquarters: Miyota-machi, Kitasaku-gun, Nagano Pref.) opened the Taichung Technical Center in January 2015, as a new facility of CINCOM MIYANO TAIWAN CO., LTD.-the company's local subsidiary in Taiwan.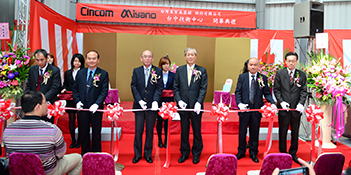 Citizen Machinery Miyano sees Taiwan, a production base of electronics parts and products such as semiconductors, as an important market that plays a leading role in the global supply chain of electronic equipment. This is why the company established CINCOM MIYANO TAIWAN CO., LTD. in January 2013, and began its direct marketing activities.
Recently, given the parts processing industry's return from China, the steep rise of land prices in the Taipei district, and infrastructure development in the Taichung area, the parts processing industry has been heading south. Many customers have moved to Taichung, so inquiries from and deliveries to these clients are increasing. The company expects this trend to continue, establishing the Technical Center in Taichung to meet needs at this time. By connecting the Taichung Technical Center and the Solution Center of the company's headquarters through an effective use of the Internet and alkapplysolution, it is making full use of the accumulated know-how, expertise, and technologies of Taiwan, in specific, and of shared global markets.
Functions of the Taichung Technical Center
A showroom (machines including Cincom L20 XII Type-a combined milling machine-will be exhibited)
Time study and test cut implementation
Education of sales agents (application service)
Business activity support for sales agents
Having the above-mentioned functions means the company can provide not only proper sales support for its agencies and customers but also education for agencies' sales representatives to strengthen before- and after-sales services. Through these activities, the company can distribute appropriate know-how and technologies to each customer and strengthen its competitiveness in the Taichung district, with the goal of increasing its automatic lathes sales.
Outline of the Taichung Technical Center
Name

CINCOM MIYANO TAIWAN CO., LTD.
Taichung Technical Center (tentative name)
Address

No. 3, Second Road, THSR, Taichung, Taiwan
Exhibited machines

The center has a showroom that can exhibit up to two machines.
About the local subsidiary, CINCOM MIYANO TAIWAN CO., LTD.
Name

CINCOM MIYANO TAIWAN CO., LTD.
Address

10th Fl., No. 174, Fuh Sing N. Rd., Taipei, Taiwan
TEL

886-2-2715-0598
FAX

886-2-2718-3133