Expansion of Low-frequency Vibration Cutting (LFV) Technology

- Introducing the New "Threading Mode (Mode 3)" -
2018.10.10
Citizen Machinery Co., Ltd.
Citizen Machinery Co., Ltd. (Headquarters: Miyota-machi, Kitasaku-gun, Nagano-ken, President: Keiichi Nakajima) has developed a "Threading Mode" for LFV (low-frequency vibration cutting) technology that is currently implemented in seven models, with the models and installation services being launched in early 2019.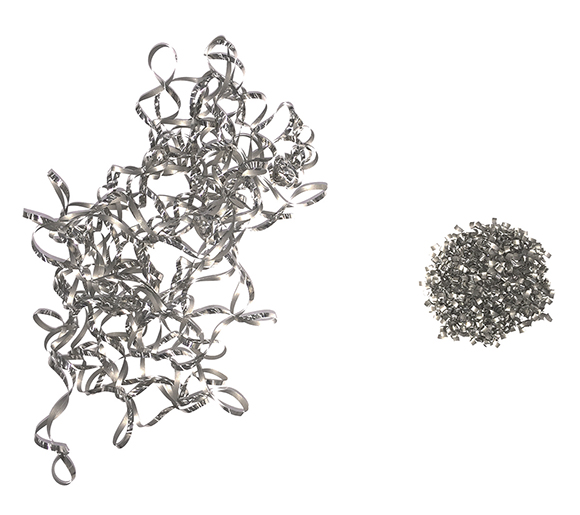 Difference in shape of chips with same weight (SUS304)

Left: chips from conventional cutting
Right: chips from LFV
LFV technology has been providing solutions for various issues regarding chips, which has been a challenge for many years in the cutting process. New LFV technology applicable for threading (patent pending) has been developed and will be launched on the market. Damage to the product and tool nose due to fragmented chips while threading has been a challenging issue for customers. This new LFV technology is also utilized in the threading process to address this issue.
LFV technology utilized in threading mode, unlike conventional LFV technologies, is an innovative technology that breaks up the chips while threading by vibrating the servo axis in the thread cutting direction (X axis) while cutting in the longitudinal direction (Z axis).
All seven LFV-fitted models will be configured with this technology.
For customers who already have LFV-fitted models, the installation will be available for JPY 100,000 (tax excluded) plus labor cost.
For customers who purchase LFV-fitted models in the future, conventional LFV-fitted models for JPY 1,500,000 (tax excluded) and threading-mode-fitted models for JPY 1,600,000 (tax excluded) will be available.
LFV technology is a unique Citizen control technology which breaks up the chips by vibrating the servo axis in the cutting direction and providing "air cutting" time where the tool does not touch the workpiece. As a result, this provides solutions to various issues regarding chips, which has been a challenge for many years in the cutting process, such as improvements in the efficiency of small-diameter, deep-hole machining and fine cutting of chips produced when working with difficult-to-cut materials where the resulting chips have tended to be long. In addition, this technology achieves machining with high precision for an extended period of time by dramatically reducing the chip volume and preventing defects on the workpiece surface.
In 2016, "Cincom L20", our core models equipped with LFV, were launched. More than half the "L20" models sold are equipped with LFV technology today, and customers who already use LFV technology have given positive feedback, as they wish to purchase models with LFV in the future as well.
For the customers' confidence in using LFV technology, we not only ensure appropriate responses to customer inquiries by initiating internal LFV specialist and LFV engineer certification schemes, but also have engaged in training technicians who can propose effective solutions to the customers.
*

LFV is a registered trademark of Citizen Watch Co., Ltd.