For a sustainable society
At Citizen Machinery's main plant, nestled in Karuizawa's rich natural environment, each one of our employees works to scrutinize the relationships between our products and the global environment, aims to improve the regional and living environment and preserve the natural environment, and puts their most diligent effort toward our company's social responsibilities.
Citizen Group Environmental Policy
Basic Policy
Based on its corporate philosophy of "contributing to and being loved by citizens," the Citizen Group will contribute to a sustainable civil society where people can live rich in spirit and with peace of mind, by carrying out business activities, while keeping the global environment and people all over the world strongly in mind.
Environmental Action Guidelines
1.

We will endeavor to preserve the global environment by reducing adverse environmental impact throughout the life cycle of our products and services and by promoting "environmentally friendly manufacturing" through the development and provision of environmentally friendly products.
2.

We will comply with laws, ordinances, regulations, agreements and other requirements regarding the environment.
3.

We will endeavor to mitigate and adapt to climate changes by promoting greenhouse gas reduction and energy saving in our business activities.
4.

We will endeavor to use resources sustainably by saving resources, reducing waste, conserving water resources, and taking other appropriate actions.
5.

We will endeavor to prevent pollution by strengthening the management of chemical substances contained in products or handled at business sites.
6.

We will strengthen harmony with local communities by deepening communication with them through such initiatives as participation in environmental conservation activities and in biodiversity and ecosystem protection activities in local communities.
7.

We will strengthen the environmental awareness of our employees through education and awareness building activities concerning the environment. We will also actively disclose information on environmental initiatives to fulfill our accountability to the community.
The Citizen Group will establish environmental targets in accordance with this Environmental Policy and work with suppliers, buyers, and other business partners to implement, evaluate, and continuously improve those targets.
This Environmental Policy will be made publicly available and communicated to all employees and people working together.
SCOPE
DESIGN, DEVELOPMENT, MANUFACTURE AND MAINTENANCE AND REPAIRING SERVICE OF MACHINE TOOLS AND PERIPHERAL DEVICES.
Karuizawa Headquarters
Tokorozawa Works
Kitakami Works
Saku Works
Examples of waste reduction activities
Biodegradation processing of waste coating material using microbes
At Citizen Machinery's Karuizawa Headquarters, we use biodegradation processing that breaks down waste coating materials that contain organic materials to help us reduce the amount of waste that we produce. This process is executed using a system that creates no waste water, consisting of a wet coating booth that collects coating mist using a flow of water containing microbes along with processing drums equipped with devices that supply oxygen to the microbes as well as mixers. All that remains as waste are inorganic materials such as pigments. Compared to the conventional method of separating and collecting coatings using chemicals, we have reduced the volume of waste to roughly one third. Thanks to our microbial processing technique, the waste no longer retains the characteristic smell of organic solvents or the viscosity of coating sludge, bringing about other effects such as improving the work environment and reducing cleaning maintenance for equipment.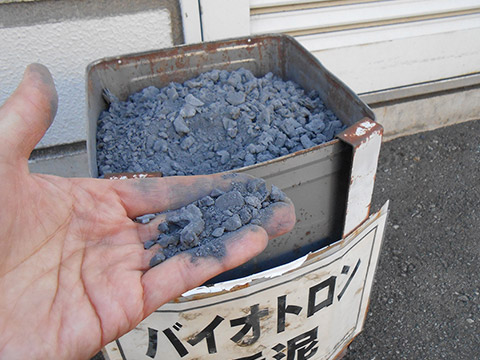 Sludge from biodegradation processing