Expansion of Miyano "BNE" series

- Turrets fitted with Y and B axes, improving combined machining performance -
2018.10.10
Citizen Machinery Co., Ltd
Citizen Machinery Co., Ltd. (Headquarters: Miyota-machi, Kitasaku-gun, Nagano-ken, President: Keiichi Nakajima) will be adding fixed headstock type CNC automatic lathes "BNE51/65MYY" and "BNE51/65MSB" to its "BNE" series.
The new products will be exhibited at "JIMTOF2018" starting on 1 November.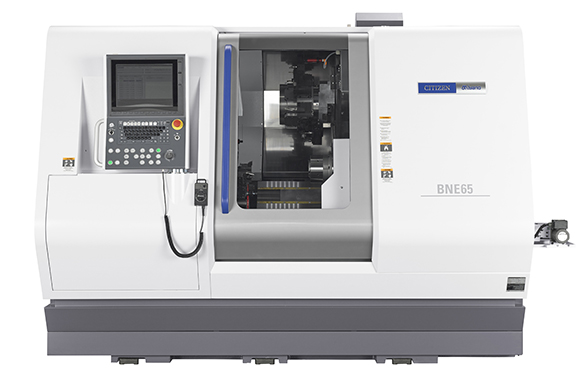 Fixed Headstock Type CNC Automatic Lathe Miyano "BNE" Series
The "BNE" series featuring two spindles/turrets capable of simultaneous machining of front and back faces now adds to its line-up an MYY model fitted with lower turret Y axis, as well as an MSB model fitted with upper turret B axis functionality.
In addition, in order to deal with thick bar material machining, which has a growing requirement in Europe, we have newly upgraded the maximum machining diameter of 65 mm.
Improvements in productivity and operability have been realized with the new HMI (Human Machine Interface) control panel, latest NC device and completely revamped machine design.
Main Features
1. Lower Turret fitted with Y2 axis
Continues with the slide structure with efficient chip disposal, a feature of BNE models. Fitting a Y2 axis to the lower turret has provided the ability for pinch milling (simultaneous milling on the upper and lower surfaces).
In addition, optimum process allocation which is not limited by machining balance restrictions has become possible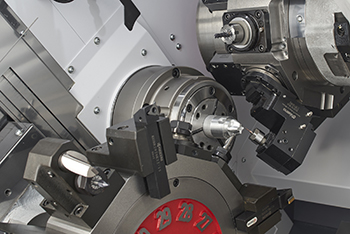 2. B axis provides enhanced combined machining performance (MSB only)
The B axis (MSB only) is the slant axis in reference to Y axis, which enables various diagonal machining, such as slant machining with multiple angles and helical interpolation machining. In addition, since the B axis tool mounted on the turret can turn 360°, it also supports machining on the back spindle side, expanding the flexibility of machining.
Equipped with a G-code as a standard to facilitate the setup of NC programs for slant machining that tend to be difficult.
3. ø65mm Maximum Machining Diameter Specification
We have increased the maximum machining diameter from the conventional ø 51 mm to an upgraded ø 65 mm specification. The front and back spindle motor output has increased by 1.2 to 1.5 times, thereby improving machining capacity such as thread cutting.
Also, because the maximum rotation speed of ø65mm is 5,000 min-1, which is the same as a ø51mm main spindle, cutting under optimum conditions is possible even for the small diameter part of the workpiece.
4. Caring for Operators
The 15-inch touch panel utilized on the control screen fitted with the new HMI (Human Machine Interface) enhances machine operability, and setup/programming time is reduced using a selective tool set etc. which can select the turret tooling configuration on the work preparation screen.
Universal design with color scheme for new control panel has been introduced. Taking into consideration the diverse ways people see colors, we are aiming to convey information in the easiest way for anyone to follow.
In order to make it easier to see the state of machining even when the door of the cutting room is closed, we have expanded the window section to about 3 times from existing models. We are also pursuing usability, including a large sliding door, providing a wide and open working space, facilitating tool installation by operators, and so on.
Main Machining Work
Automobile-related parts, hydraulic/pneumatic instrument parts, and medical instrument parts, etc.
Machine Specifications
Model Type
BNE51MYY
BNE65MYY
BNE51MSB
BNE65MSB
Maximum Machining Diameter
ø51mm
ø65mm
ø51mm
ø65mm
Maximum Machining Length
195mm
Spindle Speed
Max.5,000min-1
Maximum chuck diameter of back spindle
ø51mm
ø65mm
ø51mm
ø65mm
Back spindle speed
Max.5,000min-1
Slide Stroke
(Stroke)
X1 axis
205mm
Y1 axis
100mm(+60mm / -40mm)
Z1 axis
380mm
X2 axis
205mm
Y2 axis
80mm(+40mm / -40mm)
Z2 axis
175mm
X3 axis
155mm
Z3 axis
500mm
Number of Tool Mounting Faces
Upper Turret
12
*10
Lower Turret
12
Tool Size
Turning tool
☐20mm
Sleeve
ø25mm
Motors
For Spindle Drive
18.5 / 15kW
For Back Spindle Drive
11 / 7.5kW
For Upper Turret Tool Spindle Drive
4.0kW
For Lower Turret Rotary Tool Drive
4.0kW
Machine Weight
8,080kg
8,130kg
8,080kg
8,130kg
BNE51MYY
Maximum Machining Diameter

ø51mm
Maximum Machining Length

195mm
Spindle Speed

Max.5,000min-1
Maximum chuck diameter of back spindle

ø51mm
Back spindle speed

Max.5,000min-1
Slide Stroke (Stroke) "X1 axis"

205mm
Slide Stroke (Stroke) "Y1 axis"

100mm(+60mm / -40mm)
Slide Stroke (Stroke) "Z1 axis"

380mm
Slide Stroke (Stroke) "X2 axis"

205mm
Slide Stroke (Stroke) "Y2 axis"

80mm(+40mm / -40mm)
Slide Stroke (Stroke) "Z2 axis"

175mm
Slide Stroke (Stroke) "X3 axis"

155mm
Slide Stroke (Stroke) "Z3 axis"

500mm
Number of Tool Mounting Faces "Upper Turret"

12
Number of Tool Mounting Faces "Lower Turret"

12
Tool Size "Turning tool"

☐20mm
Tool Size "Sleeve"

ø25mm
Motors "For Spindle Drive"

18.5/15kW
Motors "For Back Spindle Drive"

11/7.5kW
Motors "For Upper Turret Tool Spindle Drive"

4.0kW
Motors "For Lower Turret Rotary Tool Drive"

4.0kW
Machine Weight

8,080kg
BNE65MYY
Maximum Machining Diameter

ø65mm
Maximum Machining Length

195mm
Spindle Speed

Max.5,000min-1
Maximum chuck diameter of back spindle

ø65mm
Back spindle speed

Max.5,000min-1
Slide Stroke (Stroke) "X1 axis"

205mm
Slide Stroke (Stroke) "Y1 axis"

100mm(+60mm / -40mm)
Slide Stroke (Stroke) "Z1 axis"

380mm
Slide Stroke (Stroke) "X2 axis"

205mm
Slide Stroke (Stroke) "Y2 axis"

80mm(+40mm / -40mm)
Slide Stroke (Stroke) "Z2 axis"

175mm
Slide Stroke (Stroke) "X3 axis"

155mm
Slide Stroke (Stroke) "Z3 axis"

500mm
Number of Tool Mounting Faces "Upper Turret"

12
Number of Tool Mounting Faces "Lower Turret"

12
Tool Size "Turning tool"

☐20mm
Tool Size "Sleeve"

ø25mm
Motors "For Spindle Drive"

18.5/15kW
Motors "For Back Spindle Drive"

11/7.5kW
Motors "For Upper Turret Tool Spindle Drive"

4.0kW
Motors "For Lower Turret Rotary Tool Drive"

4.0kW
Machine Weight

8,130kg
BNE51MSB
Maximum Machining Diameter

ø51mm
Maximum Machining Length

195mm
Spindle Speed

Max.5,000min-1
Maximum chuck diameter of back spindle

ø51mm
Back spindle speed

Max.5,000min-1
Slide Stroke (Stroke) "X1 axis"

205mm
Slide Stroke (Stroke) "Y1 axis"

100mm(+60mm / -40mm)
Slide Stroke (Stroke) "Z1 axis"

380mm
Slide Stroke (Stroke) "X2 axis"

205mm
Slide Stroke (Stroke) "Y2 axis"

80mm(+40mm / -40mm)
Slide Stroke (Stroke) "Z2 axis"

175mm
Slide Stroke (Stroke) "X3 axis"

155mm
Slide Stroke (Stroke) "Z3 axis"

500mm
Number of Tool Mounting Faces "Upper Turret"

*10
Number of Tool Mounting Faces "Lower Turret"

12
Tool Size "Turning tool"

☐20mm
Tool Size "Sleeve"

ø25mm
Motors "For Spindle Drive"

18.5/15kW
Motors "For Back Spindle Drive"

11/7.5kW
Motors "For Upper Turret Tool Spindle Drive"

4.0kW
Motors "For Lower Turret Rotary Tool Drive"

4.0kW
Machine Weight

8,080kg
BNE65MSB
Maximum Machining Diameter

ø65mm
Maximum Machining Length

195mm
Spindle Speed

Max.5,000min-1
Maximum chuck diameter of back spindle

ø65mm
Back spindle speed

Max.5,000min-1
Slide Stroke (Stroke) "X1 axis"

205mm
Slide Stroke (Stroke) "Y1 axis"

100mm(+60mm / -40mm)
Slide Stroke (Stroke) "Z1 axis"

380mm
Slide Stroke (Stroke) "X2 axis"

205mm
Slide Stroke (Stroke) "Y2 axis"

80mm(+40mm / -40mm)
Slide Stroke (Stroke) "Z2 axis"

175mm
Slide Stroke (Stroke) "X3 axis"

155mm
Slide Stroke (Stroke) "Z3 axis"

500mm
Number of Tool Mounting Faces "Upper Turret"

*10
Number of Tool Mounting Faces "Lower Turret"

12
Tool Size "Turning tool"

☐20mm
Tool Size "Sleeve"

ø25mm
Motors "For Spindle Drive"

18.5/15kW
Motors "For Back Spindle Drive"

11/7.5kW
Motors "For Upper Turret Tool Spindle Drive"

4.0kW
Motors "For Lower Turret Rotary Tool Drive"

4.0kW
Machine Weight

8,130kg
*

B axis unit has attachment capability on 5 faces